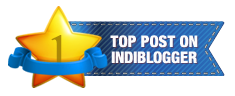 I am aware that one should not judge a book by its cover but 'Your dreams are mine now' authored by Ravinder Singh is proof enough. It is published by Penguin and consists of 265 pages to be read.
The first turn off is the cover of the book. I cannot understand why a 'gora' couple is portrayed on the cover when the contents of the book are all about 'desi' love and politics.
The first one thirds and the last one thirds of the book are interesting and the rest is just a 'fill in'. The book and the plot reads like a compilation of newspaper clippings relating to the Nirbhaya case. Wonder if the author is a wannabe journalist turned author.
The story is about a girl from Patna who comes to the big bad city of Delhi and shares a room with an urban girl. That bit is quite nice wherein the author has not used clichéd characterisations of urban=clever and vernacular=stupid.
The characterisation of the student leader is typical and right enough he falls in the love with the smart dehati girl.
Individual characterisations are good but the plot as I mentioned earlier is too reminiscent about the recent Nirbhaya case.
I wish he had given names to the political parties and unions involved instead of saying 'party in power', 'opposition party' and so on which reads so like a newspaper article.
Overall, a book to read if you are bored to death doing nothing.