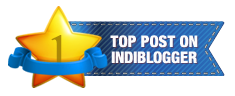 He FIXED the MATCH she fixed him
by
Shikha Kumar
My rating:
3 of 5 stars
Had received the book 'He fixed the match She fixed him' a debut novel by Shikha, for review. I would never have bought the book with a title like that and a pink cover to boot!
Having read through it, all I can say is that now people have started writing for 'Saas Bahu' Television serials. Previously you had authors writing stories which would be meant to be made into movies. Times have changed.
This book has all the drama, characters and a plot that would be absolutely perfect for a long running television soap.
Every chapter could be divided into five episodes and the ending of the book too need not end the serial. If and when this book is adapted into a television series, am sure the author will only be too glad to continue from where this book has 'ended'.
The traditional gender bias is maintained with certain modifications like the woman despite being a genius at organising human resources at work still has to prove her love for her man by cooking delectable dishes and keeping the house spick and span. The man to prove his manliness will play the field and get married to the arm candy he likes best. It also perpetuates the theory that the relationship between the daughter in law and the mother in law can turn hostile if the daughter in law is not servile. All perfect ingredients for a long running 'Saas Bahu' serial!
To the author's credit, the language is good and so is the writing and there is consistency in the drama and fantasy enacted on almost every page!
Am sure this type of book too has a niche readership which will find it eminently readable, hence I wish Shikha all the very best in continuing to write successfully.
The book all of 284 pages, is published by Vitasta Publishing.
The author, Shikha, can be connected through twitter @authorshikha and
facebook.com/authorshikha
or her website at
http://www.authorshikha.com
View all my reviews