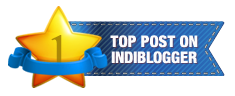 As part of their promotional activity, I was invited by Blogadda on behalf of TATA Motors to check out the new hatchback 'Bolt' on display at the Oberoi mall.
I went there last weekend and as I was entering the mall, I overheard people talking about Narain Karthikeyan. Apparently one could get a photo opportunity by just visiting the 'Bolt' arena in the mall! I was thrilled. Was indeed a great opportunity not only to check out the car but also get photographed with the one and only Narain Karthikeyan.
Having reached the 'Bolt' arena which could be identified easily as there were a lot of people milling
around I headed straight to one of the many guys in the bright 'Bolt' Tshirt and asked where I could meet the famous Narain Karthikeyan. He pointed to a tiny low platform next to the car on display and asked me to stand there while he would take my photo. Dutifully, I stood on the place indicated and got myself photographed, all the time wondering 'Whats up?' The mystery was soon cleared as the photographer showed me my photograph with Narayan Karthikeyan and transferred it to my phone via Bluetooth. Here it is
J
Now about the car. Bolt is being projected as a premium hatchback car with all the trappings that are offered by others in the market. So what is special about this? Is it the price? The price is not
revealed
yet, they said. So what else? The reply he gave me was impressive. I shall list out the five features that would make 'Bolt' stand out among the hatchbacks in the market.
1)
First time ever Multi-Drive: Sport mode when you need that power, Eco mode for excellent fuel efficiency and City mode for the perfect balance of the other two.
2)
Revotron 1.2 Turbocharged MPFi Petrol Engine for that exceptionally powerful driving experience. This is what I would love to check out as and when I get to Test drive this beauty.
3)
Generation Next Safety with 9th Generation ABS by BOSCH, Corner Stability control (I would surely love to test this out too) and dual airbags (finally someone has decided safety is more important than cutting corners to reduce price!)
4)
Segment Superior space and comfort. This has been traditionally a TATA Motors forte since their TATA Indica and am glad this is still being followed religiously!
5)
Connect Next – Not only to keep up with the times but also to be ahead in the race, the 'Bolt' will have 'Touchscreen Infotainment' by Harman which will give you an access to an array of entertainment and connectivity features like smartphone enabled navigation from MapMyIndia in addition to advanced voice command recognition.