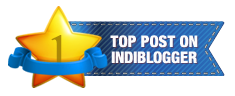 Zen And The Diary Of A B&B Owner
by
Scott Barfield
My rating:
5 of 5 stars
Loved reading it! Full of British stiff upper lip humour and a very delightful account of the various characters that arrive at the 'guest house' bringing their own idiosyncrasies to add colour to liven up the ambiance.
Why Zen? Read to find out! :)
The perfect companion for your commute as none of the chapters are more than a couple of pages each. A fun read!
Don't miss if you are a fan of British humour.
View all my reviews