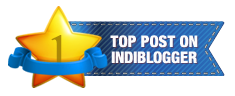 That was a marvellous ride! My first with Gordon B. Hilton, who has been writing fiction and creative non fiction since the 1990s.
His debut novel Biddy Debeau Rides for His Life is very well written and keeps you engaged with the story right through. It gives an insight into the dark underbelly of the life or maybe strengthens the stereotype of an American biker, giving you glimpses from the movie `Easy Rider'. Being a rider myself, certain portions of the book I could identify with, which is proof enough that there are certain things which are common to bikers all over the world irrespective of nationalities. Nothing in the book seemed fake. It all rang true, including the surreal drug induced scenes or the highs that a rider gets while on a ride and the mind wanders. The author must have been a rider himself to uncover the workings of a biker's mind. Yes, it is different.
It is definitely a must read whether you are a biker or not, just for the sheer adrenalin pumping action scenes of across the border adventures that have been plotted and woven beautifully. It does have a retro feel to it and maybe would have been a vrooming success if it was published in the 90s or maybe earlier.
Not an author to be written off. Look forward to more of his wonderful work!
This book was received by me from Story Cartel, as an advance reader copy, in exchange for my unbiased review.